Online Six Sigma Green Belt Training in English
Online, interactive, demand-oriented!
Contemporary communication of training contents.
In combination with active group work and exercise phases for each participant.
Continuous dialogue between participants and trainers.
This gives you the advantages of online and face-to-face training:
Further training in familiar surroundings such as home office or office.
Practical exercises have been digitalised - let us surprise you!
No risks and costs due to travel activities.
Intensive exchange on content, questions and solutions.
Direct relationship between participant and trainer and
the participants among themselves.
Small groups up to a maximum of 16 participants.
Profitable implementation in daily business through successful learning.
Possibility for coaching and consulting even after the training!
We remain true to our didactic concept - for your success!
The training will be held in English!
Duration 8 days (four training blocks of two days each)
As a Six Sigma Green Belt you are the driving force for challenging improvement projects in your company! You know the strategic and economic benefits of Six Sigma and can competently communicate the resulting advantages internally and externally at any time. As a Six Sigma Green Belt you are familiar with a wide range of valuable tools and methods for systematic process improvement and apply them in a secure and targeted manner. In addition to the methodical approach (DMAIC), as a Green Belt you master the basic possibilities of statistical evaluation as well as the necessary competence in project management and motivation of team members. Your Green Belt know-how and the regular use of Six Sigma tools in daily business make you an important partner within the Six Sigma strategy.
In order to ensure a practical reference as quickly as possible, you will work on a concrete project for process improvement in your company during your training. Within the scope of your Six Sigma Green Belt training you will have the opportunity to discuss project-specific topics with your trainers at any time and to exchange valuable know-how with the other participants in a review within the training blocks. Already with the first Six Sigma project you will work out statistically verifiable improvements and thus ensure the success of your company. The Six Sigma Green Belt Project, along with the Six Sigma Green Belt Training, is a prerequisite for certification as a Six Sigma Green Belt.
Through the Six Sigma Green Belt training you have the opportunity to further educate yourself to the Six Sigma Black Belt.
To participate in the Six Sigma Green Belt Training no previous knowledge (such as Yellow Belt) is required.
Online Green Belt Training
Training contents according to DMAIC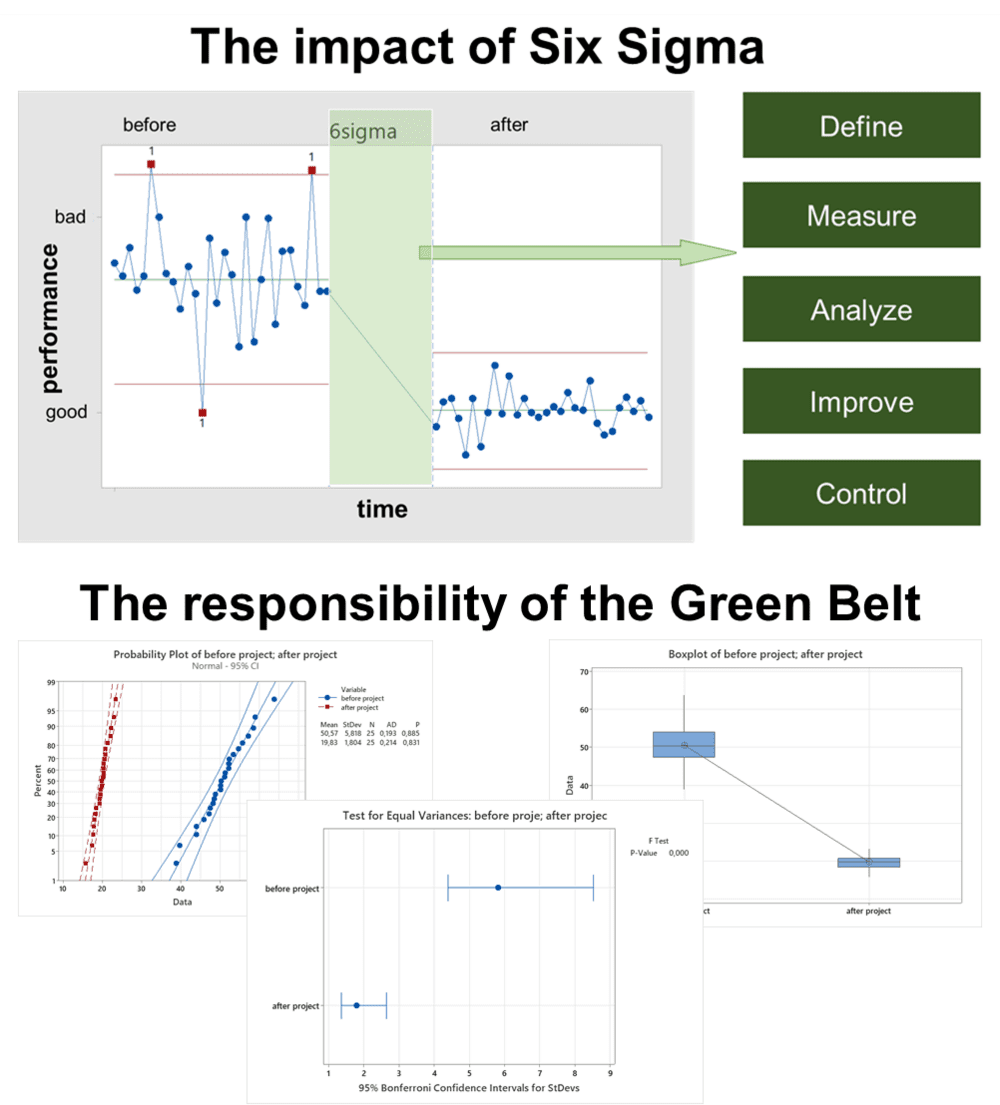 Kick-off
• Overview
• The vision of Six Sigma
• Processes and Variation
• Quincunx exercise
DEFINE
• Project charter, project management
• SIPOC
• VOC
MEASURE
• Process Mapping
• C & E Matrix / Cause and Effect Matrix
• Failure modes and effect analysis
(FMEA)
• Graphical methods
• Basics statistics for process
improvement
• Measurement system analysis (GR & R)
• The standard transformation and
• process capability
ANALYZE
• Correlation analysis
• multi-vari study
• Central limit theorem
• Hypothesis Testing
• Confidence intervals
• T-Test
• Oneway-Anova
• Simple regression
• Tests for equal variances
• Tests for attributive data
• Sample size
• Overview DOE
IMPROVE
• Tools for the Improve Phase
CONTROL
• Statistical process control (SPC)
control charts, control plan
Cross-phase topics
• Process improvement:
strategy for breakthrough, guidelines
The red thread
• Introduction to MINITAB
• Tables
Online Green Belt Training
Training contents according to DMAIC
Kick-off
• Overview
• The vision of Six Sigma
• Processes and Variation
• Quincunx exercise
DEFINE
• Project charter, project management
• SIPOC
• VOC
MEASURE
• Process Mapping
• C & E Matrix / Cause and Effect Matrix
• Failure modes and effect analysis
(FMEA)
• Graphical methods
• Basics statistics for process
improvement
• Measurement system analysis (GR & R)
• The standard transformation and
• process capability
ANALYZE
• Correlation analysis
• multi-vari study
• Central limit theorem
• Hypothesis Testing
• Confidence intervals
• T-Test
• Oneway-Anova
• Simple regression
• Tests for equal variances
• Tests for attributive data
• Sample size
• Overview DOE
IMPROVE
• Tools for the Improve Phase
CONTROL
• Statistical process control (SPC)
control charts, control plan
Cross-phase topics
• Process improvement:
strategy for breakthrough, guidelines
The red thread
• Introduction to MINITAB
• Tables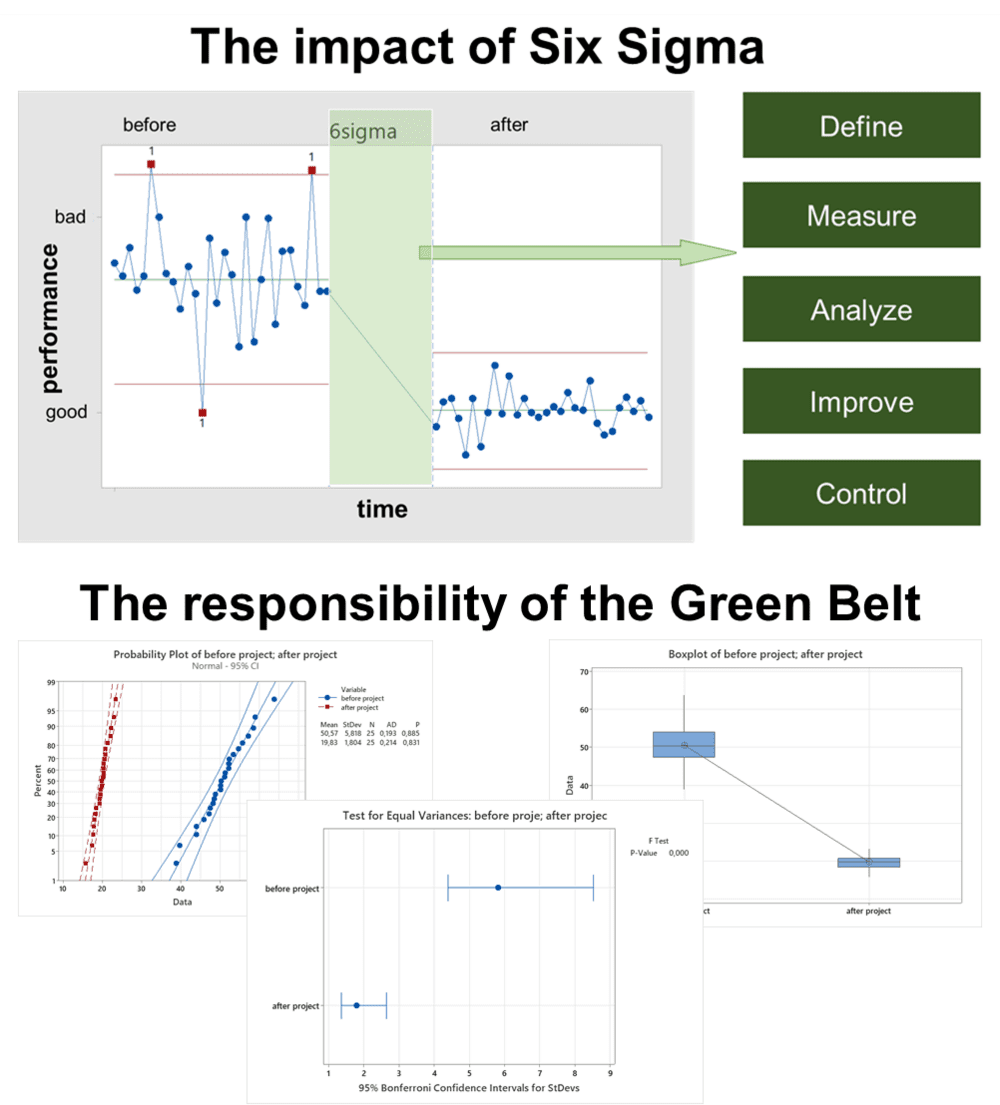 Online Green Belt Training in Englisch
Termine
| | | |
| --- | --- | --- |
|   | Block 1 | 09.01. - 10.01.2024 |
| Online GBT - KG 5 Englisch | Block 2 | 13.02. - 14.02.2024 |
|   | Block 3 | 04.03. - 05.03.2024 |
|   | Block 4 | 16.04. - 17.04.2024 |